April 22, 2021
Posted by:

Camie Bybee

Category:

Data Backup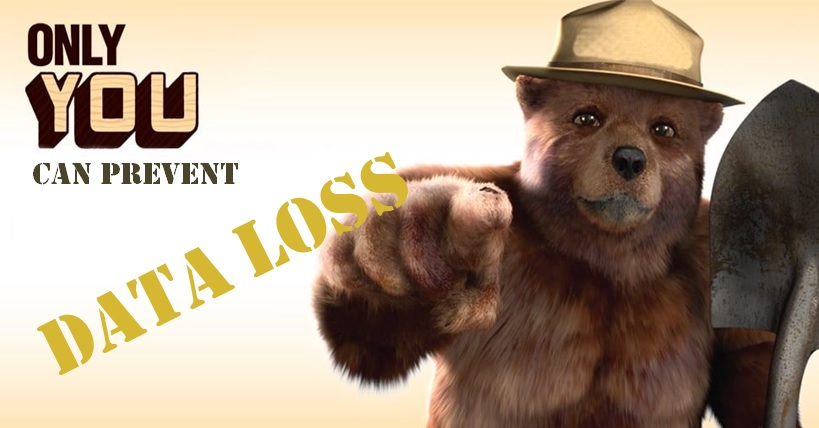 On February 11th, 2021, 3 Google Searches were performed. The search phrases typed in were different searches, but the searchers were after a common result. The numbers shown below come from the search results of the 3 searches using Google's search engine on that day. The 3 searches were similar in nature.
Here's a look at the number of hits for these results of these searches:
1. About 2,280,000,000 results (0.92 seconds)
2. About 290,000,000 results (1.24 seconds)
3. About 8,310,000,000 results (1.09 seconds)
Now you might be thinking, who cares about the number of results? Don't you just want to know the answer to what you are searching for? Normally the answer would be yes, but in this case these results totals were the very thing that caught my attention.

Now, Let's take a closer look at each of the 3 searches performed on this day:
Google search #1
"How do I recover lost data from my computer?"
(About 2,280,000,000 results.) Quite a popular search, this statement is probably linked to some type of information concerning data loss.
Google search #2
"Help me get my data back."
(About 290,000,000 results.) A similar search as before, this number would assume there is probability linked to data loss in somewhere.
And finally,
Google search #3
"I lost all my data."
(About 8,310,000,000 results.) People are searching endlessly on this topic and lost data seems to be the core of this global problem.
Unfortunately, it is the devastating loss that causes people to act! As someone types "help me I lost all my data!" into the search bar, they are filled with panic and terror which leads to feelings of fear, helplessness, and uncertainty as they get ready to embark on a journey of desperate attempts to recover valuable information that once was rightfully theirs. Data Loss is an all-too-common problem, and it happens to the best of us! So how does one get to a place where a Google search like "I lost all my data" is his only hope? And how does one avoid such a desperate move altogether? The difference lies in the preparation.
Let's consider a couple of examples:
Bob is the CEO of a medium sized business but does not want to waste his money on any sort of added expenses for risk or prevention. He has never had a problem before so why fix what is not broken, right? Wrong!! Well, what Bob does not realize is that his organization had been targeted and has now become a victim of a cyberattack using ransomware and other forms of malicious malware. ALL those hard-working days and time he put into building his company data is about to come crashing down, literally.
Now let us jump over and look at Susie and her company. Just like Bob, Susie is a hard-working business owner that has poured her life and passion into building her business which, like Bob's business, is a running success. However, Susie's philosophy on risk and prevention is a bit different. Susie believes in the adage "It's better to be safe than sorry" when it comes to data protection. One night, while Susie is sound asleep, a severe thunderstorm in her area has caused some flooding in her office that has severely damaged to her hard drive. The data on her drive is a total loss.
How do these 2 stories end and what do they have in common? Both Bob and Susie lost all their data. Bob has no data protection plan so he will not be ab le to come back from his terrible loss. Susie on the other hand, has secure, recent copies of all her data backed up both locally and to the cloud.
So, what is the moral of the story? We all feel for Bob, but unfortunately there is not much we can do at this point, except offer support and education about the importance of data security and prevention in the future, as we watch him rebuild his company data from the ground up. As far Susie, her data is safe and her Business will not suffer, except for the whole flooding thing, which, compared to losing all her company data, is only a minor setback. And remember Susie's "Better safe than sorry!" philosophy? Chances are, she also has full flood Insurance as well to cover the damage to her office!
The point here is not to look down on Bob. This is an occurrence that is impacting Businesses all over the world and the negative impact of data loss continues to grow exponentially. Even if you are having a tough time relating to Bob or Susie's story, that is understandable, but If you own a Business then you should seriously consider these statistics:
-The United States has the world's highest average data breach cost at $8.64 million (IBM, 2020).
-According to Cybercrime Magazine in 2020, losses from cybercrime damages are expected to reach $6 trillion by the end of 2021.
-Every 11 seconds, a business falls victim to a ransomware attack, and Ransomware damage worldwide is expected to reach $21 billion by 2021.
-Over 50% of all cyberattacks target small- to medium-sized enterprises (Cybersecurity Ventures, 2021).
-Research shows that in a year, 51% of organizations are impacted by a form of ransomware infection (Mimecast, 2020).
-Another study shows that 70% of consumers feel that businesses have not done enough to safeguard their personal information (Arcserve, 2020).
This last one shocking!
-93% of companies without a solid Data Backup or Recover Plan will be out of business within one year.
In conclusion, it is safe to say that solidifying a regular Data Backup Plan is of vital importance and a real "no-brainer." You would never cross the street before looking both ways, right? Same goes for running your Business. A good Data Backup Service plan should be in place and a top priority before you are in operation. If you do not have one a good data backup plan in place, I would suggest finding one fast! Data loss prevention is a vital necessity that serves to protect you, your business, your finances, and your clients. Finding a professionally managed service that is monitored daily would be the best experience! In today's world, data backup has never been more critical to run a healthy and successful business. Remember, only you can prevent data loss!
Need a professionally managed online data backup plan?
Resources:
2020 Disaster Recovery Statistics That Will Shock Business Owners

https://financesonline.com/cybersecurity-statistics/