TCDB 101 – Introduction to TCDB
TCDB 101 – Introduction to TCDB
TCDB 101 Session 1 – The Importance of Data
—–
—–
Session 1
The Importance of Data
As we've said, data is everything. From an information technology point of view, a company's data is the heart and soul of their business. In the 21st century digital information is critically vital. Without it, a company has nothing and cannot operate. It is arguably the most important asset for any business and is practically irreplaceable if lost or stolen.
In this section we want to take a close look at the many types of data and better understand their value for the users in a company. To start, let's look at the unique nature of data.
What is Data?
Here's the simplest definition – data is information. Specifically, data is information that has been translated into digital or analog form suitable for storing and processing by a computer. The most practical definition for data is information created and used by people with software applications. This is the most important aspect of data – the fact that it is created by and used by people. Without people, data has no purpose.


Characteristics of Data
Information is an abstraction and as such has no weight or mass. Although the data is represented by physical materials (magnetic bits, pulses of lights, etc.) the data itself is not physical. It is interesting that the most important entity in the digital world cannot be measured quantitatively. Yes, data cannot be measured! We can only measure the physical characteristics of the media which contain the data.
Data Dependencies
Computer Data is dependent upon 3 things – computer hardware, systems, and applications. Without these, the data is essentially useless. Data presents information to people. To do this the data needs to be translated from bits and bytes to physically observable symbols, charts, images, motion graphics, etc. that people can interpret as information. This translation from the abstract to the physical requires computer hardware working together with system and application software.
Layers of Data
Computer Data can be viewed in layers with system data at the bottom and user data at the top. It is this data at the top that is the most important because it is created by the user and saved in the form of created files. It is useful think of all computer data in terms of its value to the user and replaceability. The 5 layers of data of increasing value (and irreplaceability) are: System Data (operating system files), Applications Files (programs), User Settings (preferences), Application Data (user data created by apps), and User Created Files (personal and company data).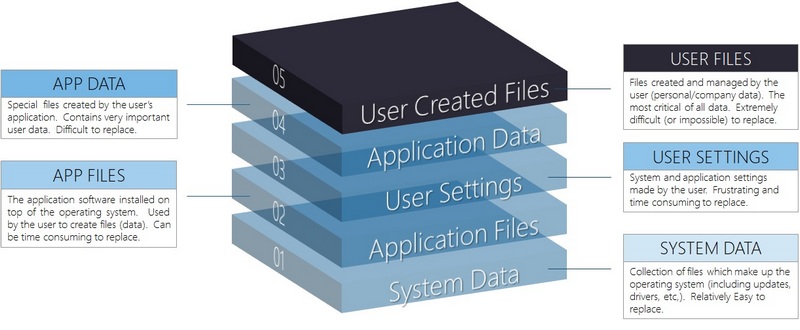 The Value of Data
Data is of vital importance, especially data created for and by the user. But what is user data worth? The following criteria helps us to determine the value of data:
Time Investment
Replaceability
Intrinsic Value
Mass Impact
Time Investment
The more time it took to create the data the more valuable it is. Time is your most valuable possession. It has been proven; time is much more valuable than money because if you have time you can make money, but no matter how much money you have you cannot make time. Any data that took a user a lot of time to create is of greater value to them because it represents a greater investment of their time.
Replaceability
The harder it is to replace the data the more it is worth. Data that is difficult or impossible to replace or recreate is exponentially more valuable. If it can be recreated with little or moderate effort the data has little or moderate value. If is hard to recreate it will naturally have greater value. Maybe it's something that cannot be replaced at all. For example, a collection of media files which captured a rare event in history. This kind of data is priceless, and its loss would be tragic.
Intrinsic Value
What the data means intrinsically to the user is also important. The more meaningful the data is to the user to more value will be placed on the data. Data with intrinsic value may invoke an emotional feeling from the user. Maybe it's a digital audio file of a poem being read by a beloved grandfather. It would not only be irreplaceable but would have a deep emotional connection with the user who would be heart-broken if the data was lost.
Mass Impact
The more people impacted by the data the more valuable it is. The mass impact of data is determined by how many people are derive benefit from its existence. For example, suppose a small medical practice loses some art files for a marketing promotion it was planning to start. This would be not so great because it could affect everyone on the sales & marketing team. Now, suppose all the company's patient record files were lost. This would be a catastrophe if the company had hundreds of patients who depended on this data. The higher the mass impact the more valuable the data.
So, what would be the most valuable data of all? That would be data which took a long time to create, is difficult (or impossible) to reproduce, has deep meaning for the user, and has a significant impact on many people. Protecting this data would be of the utmost importance!
Training Video
Watch Session 1 Video in Microsoft Stream
Session 1 – Practice Quiz
Session 1 – Survey
Reading Assignment
IT Cloud Services Guide, Pages 28-30
Resources
Module 101 Outline
Review Questions
Quizlet Study Set
Completing The Session
You are ready to complete this session after you have done the following:
1. Read Over This Material
2. Watched the Training Video
3. Completed the Practice Quiz
4. Completed and Submitted the Session Survey (your feedback is valuable!)
After you have completed the 4 steps above, click the "Completed" button below to mark this session as complete.