Computer will not boot – No boot device found.
PROBLEM:
Computer will not boot to Windows. Gives the error – no boot device found.
ERROR MESSAGE(S):
No boot device found.
SCREENSHOTS: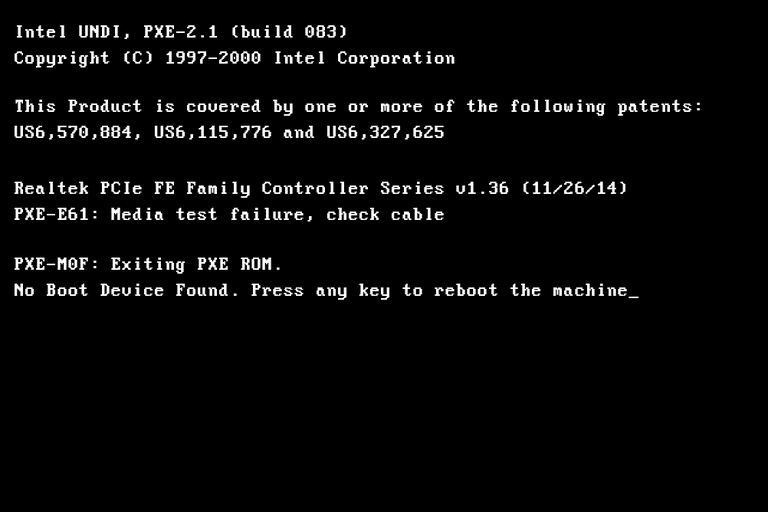 SUMMARY:
User reported there may have been power outages from storms recently, but no other problems were encountered. Lenovo ThinkCentre AIO desktop computer fails to boot into Windows. Gives the error – no boot device found. Completed troubleshooting and suspect hardware failure. System pulled for in-house testing.
SYNOPSIS:
In general, the "No boot device found/available" error message indicates an issue with the hard drive. In some cases this problem can be easily fixed by checking cables/connectors or repairing the Windows boot files. However, it may also indicate that the hard drive has failed and needs to be replaced.
SOLUTION SUMMARY:
After ruling out the typical problem solutions to get the hard drive working it was clear this drive was damaged beyond simple repair. The solution in this case will be to replace the hard drive, rebuild the OS, and restore data from backup.
SOLUTIONS STEPS:
Run Automatic repair – no go.
Run the troubleshooter – can't.
Run SFC scan – no go.
Make sure UEFI is active – check.
Check for lose cables – check.
Disconnect USB peripherals – check.
Set the hard drive as first boot device – already set.
Try to fix the MBR – can't read drive to fix MBR
Pull and save drive for possible data recovery
Replace the hard drive
COMMENTS:
A disaster recovery plan should always account for the possibility of a total drive failure which is what happened in this case. A recent full drive image would be the most efficient and painless way to get back up and running right away.
---
Resources: